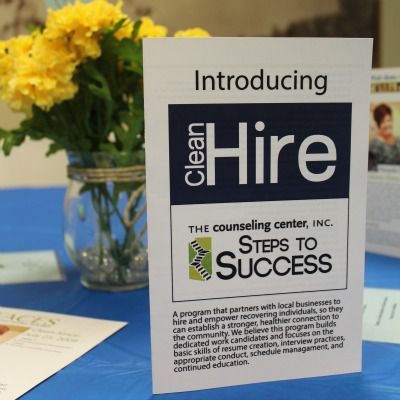 Clean Hire is a vocational program of The Counseling Center, Inc offering employment support services for clients entering the workforce for the first time or after a gap in employment. Our professional and caring staff assist program participants in identifying their employment goals and beginning steps to obtain training and/or education.
Employment Support Services
Resume Development
Job Search
Interview Coaching
Mentoring
Transportation to Interviews
Connection to Training and Education Providers
Employment Advocacy
Microsoft Office resources
Online Research Tools
General Education Development
Achieving a General Education Development (GED) certificate is strongly encouraged when first connecting to Steps to Success. If you do not have a high school diploma, we believe that preparing and testing for GED is the first step.
Training/Educational Resources
Adult Literacy Tutoring/Adult Basic Education - Scioto County ABLE
Ged Prep and Testing - Scioto County ABLE/Scioto County Career and Technical Center
Trades- Scioto County Career and Technical Center
Associate or Bachelor Degree Programs at Shawnee State University
ABLE GED classes on-site at 411 Court Street- offering Work Keys test
Clean Hire (Advocacy with Portsmouth Area Employers)
Annual Job /Resource Fair at Court Street location
Direct Referral Resource to Ohio Means Jobs
Direct Referral Resource and Vendor to OOD (Opportunities for Ohioans with Disabilities) offering Work Tax Opportunity Credit
Direct Referral Resource to COVA (Center of Vocational Alternatives)
Direct Referral Resource to Scioto County Career Technical Center (SCCTC)